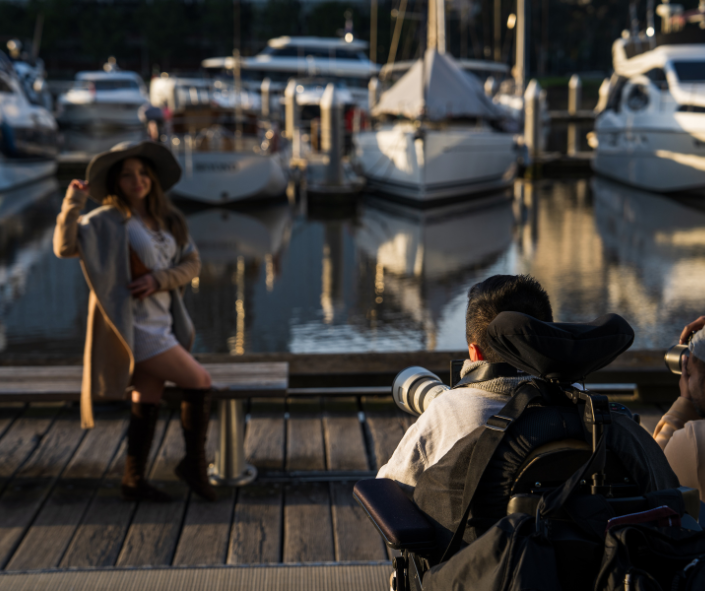 Thai's Custom Camera Mount
Photography is more than just capturing moments; it's about expressing oneself, preserving memories, and connecting with the world.
For Thai, photography is more than just a hobby; it's a passion. However, Thai had to recently stop taking photos due to his disability.. Thai lives with muscular dystrophy. He spends most of his day in his wheelchair, and experiences muscular weakness and fragility. His camera was starting to be too heavy for him to hold:
"The camera I used was too heavy, weighing a total of 2,090 grams with the lens attached, making it challenging for me to hold the camera and thus I wasn't able to take photos." 
Working in co-design with Thai, our occupational therapy team and a team of volunteers, a custom mount was designed and prototyped. The result was a meticulously crafted mount that allowed the camera to sit comfortably, enabling Thai to take photos while being seated in his wheelchair without the burden of its weight.

The mount was created with various materials, attaching to the side of his wheelchair. The mount can be adjusted and moved, to best position the camera. 
Since receiving his custom mount, Thai's quality of life has significantly increased. Despite the design being a simple solution, the final result has provided to be invaluable, as explained by Thai himself:
"In the last 2 months, this mount has given me the opportunity to explore photography, enabling me to engage with photographer communities, capturing photos, and create work that fills me with pride. This camera setup has been truly transformative. I find myself going out more, engaging in social activities, and becoming an active member of communities I deeply appreciate. Words cannot describe how much this has changed my life. I had no idea this was an option for me at all before I met Freedom Solutions."
We have loved working with Thai, and he is extremely eager to continue building a life of independence
Thai has even started his own photography portfolio online! Check out his highly-skilled photography shoots here.
A portrait, taken by Thai using his custom mount.
Need a Customised Solution?
Is there a product you need that's not available on the market? Our highly skilled volunteers at Freedom Solutions Australia can help! Fill out the enquiry form to begin your journey to a more independent life.
Read More Stories
Discover more unique solutions that we've created in past years.
Want to Volunteer?
Freedom Solutions Australia has over 250 volunteers across NSW and VIC, transforming the lives of individuals living with disability every day. Learn more about becoming a Volunteer with Freedom Solutions Australia here.
Share this story on your social media and help us spread the word about the incredible work being done at Freedom Solutions. Together, we can make a difference!