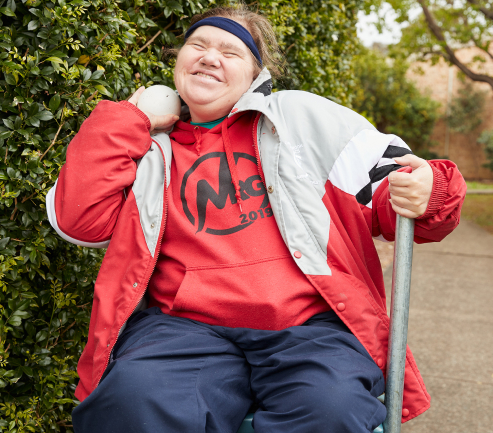 Determined Kim
Kim is a bright, determined woman who has a passion for sport and competition.
She has competed in powerlifting, long jump and discus throw at the Paralympics in previous years. When Kim is not competing or training, she is studying at TAFE obtaining her certificate in Allied Health Assistance (Nutrition and Dietetics), reading her favourite books or catching up on her favourite tv shows.
Kim is living with Cerebral Palsy which affects her ability to walk or stand unassisted. Being very active, Kim has played wheelchair rugby, race running, and ambulant discus throw but due to an injury in her leg in 2013, she could no longer play at her fullest potential.
Kim wanted to still be a part of the action and began to take interest in seated throwing events. Being familiar with Freedom Solutions Australia and their services, Kim contacted Freedom Solutions Australia to see if they could create something for her to participate in these sporting events. From her enquiry, she came into contact with Freedom Solutions Australia Volunteer, Rob Blackadder, who had a background in creating sporting frames for Paralympians.
Kim was super impressed with Rob's assistance from start to finish.
"I'm very fond of Rob. The overall experience we had was smooth and easy going. With his help, I was able to improve my technique," said Kim. On the day of delivery, Rob had brought the sporting frame to the Homebush grounds where Kim was training.
"I was surprised to see Rob deliver it. I was thrilled and excited to see the frame," said Kim.
Since the delivery of the sporting frame, Kim is now training with it twice a week, where she participates in discus throw, shotput and javelin events again. She hopes to participate in 2022 Birmingham World Games.
Kim was pleased with the overall experience she got from Freedom Solutions Australia and volunteer, Rob.
"Freedom Solutions Australia is made up of very experienced and talented people. Rob and the team at Freedom Solutions Australia have great knowledge and are skilled in what they do."